Established 2016
Garden State
Homebrewers
The Garden State Homebrewers, the first and only AHA recognized homebrew club in Somerset county, originated as an online group which first met on Feb 10, 2015 at Tapastre in Somerville. From the start, many members distinguished themselves at local competitions, including Eric Brunberg who won 1st place in the IPA category at Motown MASH 2015 and Chris Bellina/Larry Bentley, who won Best of Show at Motown MASH 2016 for their IPA "Hazy Shade of Citra". The group rapidly grew and by late 2016, decided to create a charter and elect an executive board, officially becoming the "Garden State Homebrewers".
In 2017, the club increased its range of activities, participating in charity events, group brews, and collaborations with local breweries. The GSHB held its first charity event in August 2017, a beer tasting to benefit The ARC of Somerset. In November 2017, the GSHB was invited to participate with several brew clubs and breweries at the "For the Love of the Craft" (FTLOTC) dinner, collaborating with Flounder Brewing in Hillsborough to brew a New Zealand IPA "Fish out of Water" for the occasion.
In 2018, club members volunteered at the annual fundraiser for the Sunset Lake Association in Bridgewater. Later in 2018, the GSHB collaborated with Bradley Brew Project on a New Zealand lager, "Chasing Kiwis", for the FTLOTC dinner. The club continued to do well in local and national competitions, achieving 3rd place in the NJ Homebrew Club of the Year contest.
In 2019, the GSHB joined forces with The WHALES to create the BJCP-sanctioned Garden State Homebrew Competition, held in White House Station on March 9. Over 280 beers were judged and it was widely considered to be a well-run and very successful event. Among the highlights was a Best of Show award for GSHB member Mike Gilmore's English Mild, which he brewed at Flounder that spring. Later in 2019, the club collaborated with Bradley Brew Project on a beer for the FTLOTC dinner, this time on a fruited dark sour beer with figs and vanilla, called "We Playing". For a 2nd year, GSHB members volunteered at the Sunset Lake Association summer fundraiser. Lastly, the GSHB achieved 2nd place in the 2019 NJ Homebrew Club of the Year contest.
In Jan 2020, in support of Mike Gilmore, who was diagnosed with brain cancer, GSHB brewed his English Mild at Flounder, who generously offered to donate all proceeds to Mike's family. In March 2020, the 2nd Annual Garden State Homebrew Competition was held, with NJ HOPZ joining GSHB and WHALES as a co-sponsor. About 350 entries were judged and GSHB members had their best performance to date in a BJCP-sanctioned competition. The competition also raised funds for the Gilmore family and promoted the re-release of Gilmore's Mild, with tapping events at Flounder, Tapastre, 22 West and the Stirling Hotel planned throughout the month of March.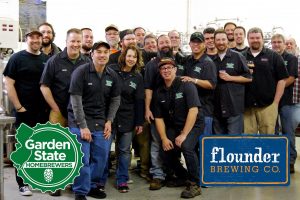 Club Brew Day
Flounder Brewing